Now legal for both FTC and FRC! Blinkin makes adding LEDs to your robot as simple as driving a motor. Chose the pattern you want and give it the corresponding PWM signal.
The REV Robotics Blinkin LED Driver is a compact LED driver module that simplifies controlling both 12V RGB LED and 5V individually-addressable WS2812 LED strips. Blinkin combines internal LED drivers, a 5V power source, and a pre-programmed controller all in one package.
Each of the 100 preloaded patterns can be customized to create just the look you want. Adjust the speed, density, and brightness or set up a custom 2-color palette that suits your team's identity. No specialized programming is required to set-up or use the Blinkin LED Driver. Just look up the pattern you want and provide the standard servo-style PWM pulse to actively control which pattern is being displayed.
Selecting a display pattern is as simple as controlling a motor or servo: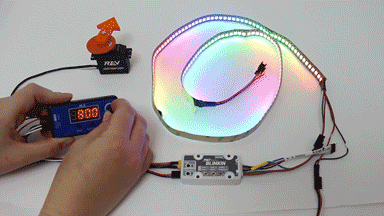 Specifications
Compatible LED Strips

12V Common-anode RGB LED strips
5V Addressable WS2812 RGB LED strips

Connections

12V Power: XT30 connector
PWM Input: 3-pin 0.1" pitch conenctor
LED Strip Adapter: 7-pin JST PH connector

Setup/Mode Selection

Mode and Strip Select buttons
3 adjustable potentiometers for color/length/brightness setup

Electrical Specifications

Nominal Input Voltage: 12V
Nominal Addressable Strip Output Voltage: 5V
Maximum Addressable Strip Output Current: 5A

Mechanical Specifications

Mounting Hole Diameter: M3 or #6
Mounting Hole Pitch: 32mm x 24mm
Length: 64mm
Width: 32mm
Height: 13mm
Kit Contents
QTY 1 - Blinkin LED Driver
QTY 1 - PWM Cable
QTY 1 - XT30 Cable
QTY 1 - Potentiometer Adjustment Screwdriver
QTY 1 - Blinkin LED Cable Adapter (JST PH to JST SM)
Documentation
CAD
SKU-STP

AllREVPartsSTEPzip
Videos