Published by T-REV on May 23rd 2023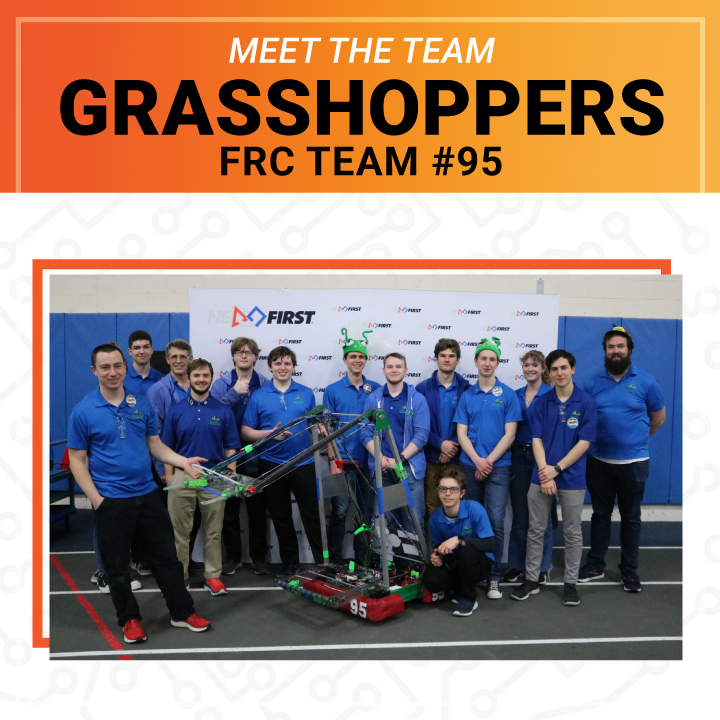 Meet FRC Team #95 - Grasshoppers! This #TeamREV team from White River Junction, Vermont is over 25 years strong.
Tell us a little bit about your team's background.
Each season, we name our robot after someone that we believe deserves recognition for their work in science. In one of our early seasons, our robot was named after Grace Hopper and had a side profile that resembled a grasshopper. Since then, we have been the Grasshoppers. This season, our robot was named after Edith Clarke. Each member of our team has multiple roles, specializing in what they enjoy the most.
What are a few achievements your team was proud of this season?
Having fun
Retaining new students and passing on knowledge
Encouraging team engagement
Finishing as finalists at the NE District Hartford Event
Winning the Creativity Award at the NE District Granite State Event
What goals are your team working towards during the offseason or for next season?
Use our 2023 robot to practice construction techniques for next season, mainly by replacing aluminum parts with composites
Practice autonomous coding
Work on techniques to recruit new members
What was your favorite part about being in #TeamREV during the 2022-2023 season?
We really appreciated being part of the #TeamREV community as well as receiving funny T-REV stickers!
Glad you hopped your way into Team REV for the 2022-2023 season, Grasshoppers! Find the Grasshoppers on these platforms: