Published by T-REV on Mar 6th 2023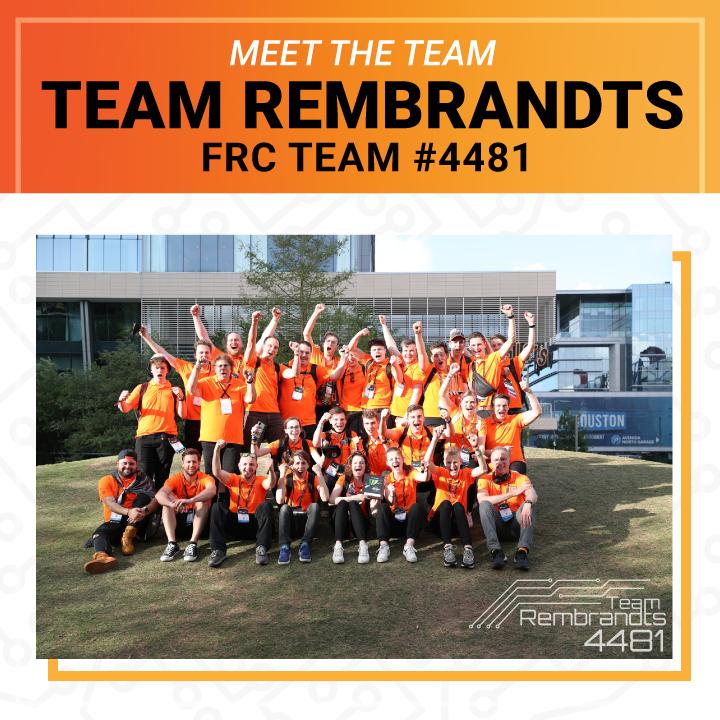 Today, we're featuring FRC Team #4481 Team Rembrandts, a #TeamREV member from Eindhoven, Netherlands!
Tell us a little bit about your team's background.
Team Rembrandts competed for the first time in 2013, ten years ago. Ten years leads us to the roman numeral X, which has been incorporated into this season's robot name: TR-X. Our team has developed an internal structure fit for a small to medium-sized company, where every member is able to discover and follow the growth path leading to their personal goals. We have members in high school, college, and working members. Based on their experience, they fulfill different roles in their departments, ranging from student, to lead, to support.
Within our team, we have mechatronics students who, in their second year, need to do an internship project. As a team, we offer them the ability to do that with us. Last offseason, a group of six students developed and manufactured a modular lift system!
What are a few achievements your team is proud of so far this season?
We are actively working on "pushing the needle" - developing our methods so that students require as little guidance as possible from mentors. This season, our Skills Class programs have made a big impact towards this goal.
We also work with dedicated subsystem teams and integration engineers, allowing students to get a better understanding of a system and know all the ins and outs. This subsystem-based engineering is part of our "plug & play" design philosophy. With modular design in mind, all subsystems can be easily troubleshooted, removed and reconnected. This allows us to take our robot in our suitcases across the Atlantic to competitions.
What goals is your team working towards this season?
In order to increase our students' capability and self-reliance, they follow our Skills Class programs. First-year students follow this curriculum and get an understanding of everything we do. During build season, they're linked with more experienced students through our buddy system, ensuring they always have something to do. They then follow a specialization course in Skills Class 2, where they gain knowledge similar to more experienced members.
As a team, we have the goal of organizing a European FRC event. For this, we need to sustainably grow the programs leading up to an event. We currently focus on the quality and retention in FTC. We volunteer in all positions, organize masterclasses and playground sessions at our build location, and form a part of FTC BeNeLux (Belgium, Netherlands, Luxembourg).
Lastly, we are actively working on our team's online presence all year round. Our media & branding sub-department has made strides in professionalizing our posts on social media.
What events is your team looking forward to?
We are in California for Weeks 1 and 2 of competition! We look forward to the travel, meeting new teams, and competition both on and off the field.
What is your favorite part about being in #TeamREV?
Team Rembrandts has a passion for engineering. We love to always work with new, advanced and capable systems. We have loved using REV's MAXSwerve Modules on our 2023 robot. Next to that, our Media & Branding team now has a year-long project that improves engagement and development throughout the year.
Best of luck at your upcoming competitions, Team Rembrandts! Find the team on these platforms: