Published by T-REV on May 2nd 2023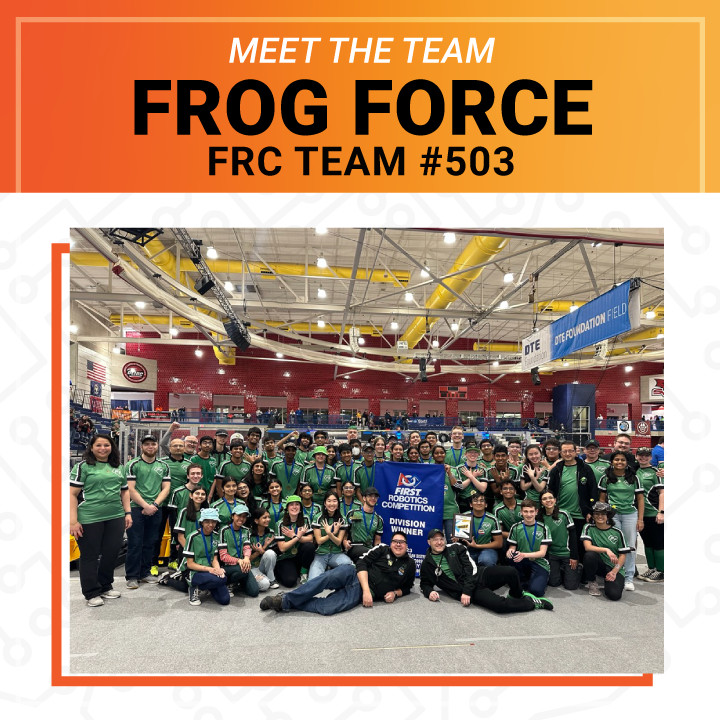 It may be the offseason, but we still have plenty of #TeamREV stories to share! Meet FRC Team #503 - Frog Force, from Novi, Michigan.
Tell us a little bit about your team's background.
Frog Force was founded in 2001, with about 20 students. Today we are nearly 100 students strong. Being such a large team, we need a lot of jobs to keep everybody busy, so we have our team broken into about a dozen groups (drivetrain, electrical, outreach, etc.), each with a student leader and assistant lead. We also have a steering committee made up of 6 adults and 6 students who actively run the team.
Each year, we name our robot with a punny name after one of our mentors. Our 2023 robot is named "Krichene Machine"!
What are a few achievements your team was proud of this season?
Being part of #TeamREV, of course!
Winning our division at the Michigan State Championship.
Continuing to iterate and work on our robot all year. We kept striving for constant improvement and we were (mostly) better each week than the last.
Our unique elevator design using a continuous 28' belt and almost 15' of 1"x1" MAXTube!
What goals are your team working towards during the offseason or for next season?
Continuing (and improving) student training. We feel like we're just hitting our stride again after the disruptions caused by Covid.
Continuing to grow and support the Michigan Unified Robotics program that gives opportunities for students with intellectual disabilities.
We'll create another off-season robot to give a better hands-on training opportunity for all newer students. This was something we added this year and it was much better than our previous training program.
Compete in at least one off-season event each month during the off-season (and continue to represent #TeamREV at those events).
What was your favorite part about being in #TeamREV during the 2022-2023 season?
Our favorite part was meeting and interacting with the other #TeamREV teams. Being part of the #TeamREV community makes us proud to be part of this group of teams.
We're so glad to have had you on #TeamREV this season, Frog Force! Visit the team's platforms: