Published by T-REV on May 5th 2023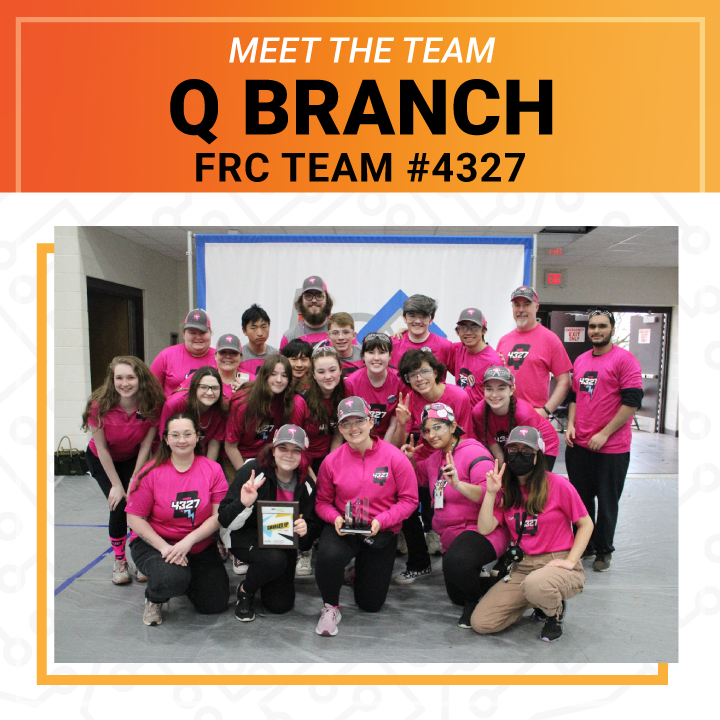 Our next #TeamREV Spotlight is also from Michigan! Read on to learn about FRC Team #4327 - Q Branch.
Tell us a little bit about your team's background.
Our team comes from Battle Creek, Michigan - the Cereal City. We were founded in 2011 and quickly grew to a K-12 family of FIRST teams. Team Captain Emma K. proudly leads this 25-member team of majority women with our robot, Charlie, and mascot, Frederick the Goose.
What are a few achievements your team was proud of this season?
We represented Battle Creek and all of our sponsors this season by traveling out of state to the Midwest Regional in Chicago.
We hosted the first back-to-back district event with Lakeview Events 1 and 2.
We were proud to qualify for the Michigan State Championship for the fourth year in a row. There, we earned the Imagery Award for our commitment to integrating our signature Power Pink into everything on our robot and our pit.
What goals are your team working towards during the offseason or for next season?
We are looking to improve the reliability of our machines by incorporating more of the REV ION System.
We are looking to expand our program to reach more students than ever before.
We are working to continue our YouTube series geared toward newer teams. We share technical and non-technical tips and tricks to running a successful program.
We are looking to reach out to our community to inspire more people to understand This Is How We Robot.
What else would you like to share about your team?
If you are ever at an event with us, know that we have our numbers crew ready to cheer on the smaller teams whose members might all be driving the robot or in the pits. We are there to be your spirit squad!
We loved being a part of a great community of #TeamREV teams across the world! We had fun being a part of the #TeamREV challenges and having strong support from a great sponsor!
Q Branch, you were an awesome #TeamREV team this season! Follow Q Branch on these platforms: