Published by T-REV on Mar 24th 2023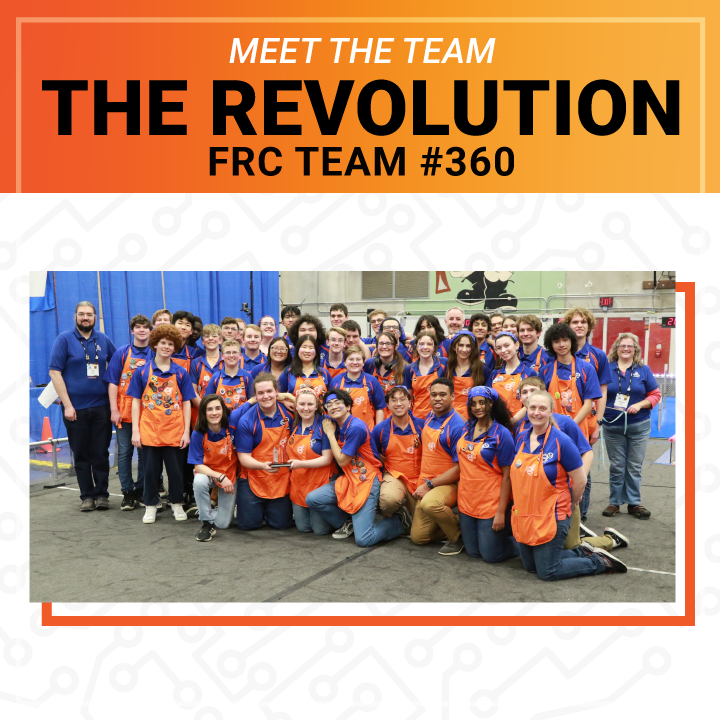 Meet FRC Team 360, The Revolution! Get to know this #TeamREV team from Tacoma, Washington.
Tell us a little bit about your team's background.
Our team was founded in 1999 in coordination with the University of Washington and Bellarmine Preparatory School of Tacoma, Washington. We are the longest-sustaining team in the Pacific Northwest at 24 years and call ourselves "The Revolution." In 2009 we helped establish the first Turkish FRC team (2905), which now runs multiple regional events thanks to the continued support from Team 360 alumni.
We have an entertaining mascot named Revy, who comes alive each year through one of our members. He embodies our excitement and is always a talking point at our competitions.
Our unconventional robot name, Rainmaker, has a deep yet simple history. During our rookie year, there was a team discussion about what to name our robot; our mentor Kevin Ross suggested "Rainmaker!" That name has stuck with us ever since, carrying on into this year as Rainmaker 23.
What are a few achievements your team is proud of this season?
During the preseason, we held a significant fundraising campaign to upgrade our drivetrain to swerve. We were blown away by the support from friends, family, corporations, and team alumni. Implementing swerve created many learning opportunities amongst the sub-teams and has elevated our level of play.
We had a record 93 students and over 31 rookies interested in joining robotics this season. Building our program's reach has been inspirational and exciting.
A significant achievement this year has been our new road cases in our pits. We are grateful to all that contributed to making our team more efficient during competition season.
During our first event at PNW Clackamas District, we won the Judges' Award, and our teammate Julia Shimshock was named a Dean's List PNW District Semi-Finalist. Winning both of these awards is a testament to our team's love for spreading STEM within our school, community, and FIRST.
An achievement that has been years in the making is the success of our annual STEM summer camps for elementary and middle school students. Last summer, we had a record 32 students over a two-week period. Team 360 members were able to teach students different principles of STEM, such as programming, mechanics, and robot building. Our camps are a recruiting ground, and every fall, we have camp participants return as robotics members.
What goals is your team working towards?
It's been 5 years since we last attended FIRST Championship. Each sub-team has been working to improve its training, processes, and documentation. We've elevated our level of play by utilizing the latest robotics products, technology, and designs.
We are already planning this upcoming summer's robotics camps. Students are working on curriculum, game design, and marketing. We've secured a larger space to host camp sessions and are working on funding additional robotics kits to support the expected growth in participation.
In 2017, we established an endowment to ensure we have sustainable funding. Since we are a private school, we are not eligible for state STEM grants. Each year we receive a percentage of the investment gains, which funds a portion of our program. The business team works on campaigns to grow the base yearly.
What is your favorite part about being in #TeamREV?
Collaborating with other #TeamREV members has been influential to our sub-team processes and robot design. The REV Robotics Support Team has helped us resolve several product questions, significantly increasing productivity. We look forward to continuing our #TeamREV partnership this season and hope to see fellow #TeamREV teams in Houston.
What else would you like us to know about your team?
We are proud of our mentors and alumni who fill key volunteer roles such as Field Supervisor, FTA, FTAA, CSA, Lead Robot Inspectors, Volunteer Coordinator, and Scorekeeper at Pacific Northwest competitions. We've volunteered as field setup and tear down crew for the past 7 years for PNW competitions.
We plan to compete in our second district competition in Sammamish on March 25th and 26th. We're currently working on ensuring the consistency of our robot, which will allow us to ensure there are no breaks caused by long-term usage.
Best of luck this weekend, Team 360! Find The Revolution on these platforms: