Published by T-REV on Mar 15th 2023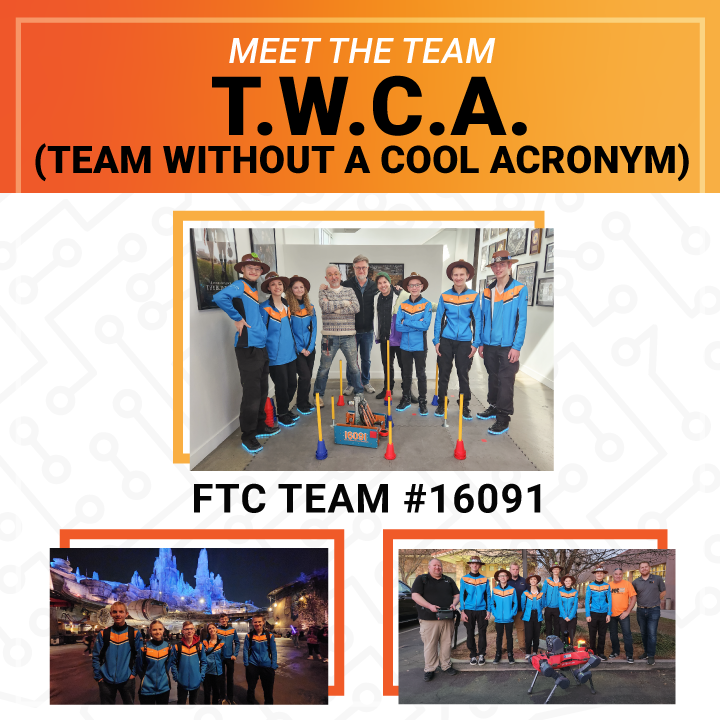 Our next #TeamREV feature is FTC Team #16091: T.W.C.A. (Team Without a Cool Acronym), from Hurricane, Utah!
Tell us a little bit about your team's background.
Our team was founded in 2018 by two sisters who had a passion for FIRST Robotics and Phineas and Ferb. Since then, those sisters have graduated, and the team is now captained by their younger sister, Teslyn. T.W.C.A. is a play on the Disney television show Phineas and Ferb and their pet platypus Perry's status as a secret agent for the O.W.C.A. (Organization Without a Cool Acronym). T.W.C.A. has become friends with the creators of Phineas and Ferb and visit them at least once a year to demo their robot and talk about FIRST.
What are a few achievements your team is proud of this season?
Our biggest achievement was the publication of an Engineering Portfolio Resource for teams. We have been contacted by teams all over the world for help with their Engineering Portfolios and have had over 40,000 all time downloads of previous season portfolios. Since its launch in late January, the Engineering Portfolio Resource has been downloaded over 8,000 times!
Having all rookie programmers and builders, we are also very proud that we have been able to build a competitive robot that has allowed us to be winning alliance captain at two qualifiers we have attended. As a reward for all our hard work, we were excited to win the Inspire Award at our first qualifier. At our second qualifier, we won the Think Award, which validated all of our hard work putting together the Engineering Portfolio Resource.
Lastly, we will be returning to the FIRST World Championship! Last season, at World Championship, we were entirely focused on competing. We decided that a goal for this season was to return and spend time meeting teams and having fun! We had an uphill battle to make that happen, as other teams in our region have definitely upped their game to try to match our level of commitment to FIRST. Because the 1st Place Inspire Award Winner at this year's Utah Championship already had advanced, we qualified as 2nd Place Inspire!
What goals is your team working towards?
Our biggest goal is to help instill a passion for FIRST Robotics in our rookie team members. We feel like they have really caught the bug, and we are still working to make their experience amazing for the rest of the season.
Our team was founded and has always been captained by females. Over time, those girls have graduated, and we are looking for ways to recruit more females in our community interested in STEM. Some initial plans include recruiting at local high schools that don't have FIRST programs during the offseason, and doing a Girls who STEM night at our local 4H extension office.
What is your favorite part about being in #TeamREV?
Our favorite part of being in #TeamREV is the community it has given us. We like viewing the posts that other #TeamREV members make, following their seasons, and seeing how they are eager to help each other even though they are competitors.
What else would you like us to know about your team?
We're proud of the volunteer work we have been doing in our community with STEM camps at local elementary schools. During the summer, we volunteered at 3 different schools. During the school year, we volunteer 3 days a week for both a STEM club and FLL Explore robotics.
We are a community team of neighborhood friends that like to get together and build, much like the characters in Phineas and Ferb. We have had an outreach of over 2,000,000 this season through some in person events, but mostly social media. We made videos with Dan Povenmire of Phineas and Ferb which he posted on his TikTok, Instagram and YouTube!
Well, like Phineas might say, "Yes, yes you are" an awesome member of #TeamREV! Find T.W.C.A. on these platforms: