Published by T-REV on Feb 10th 2023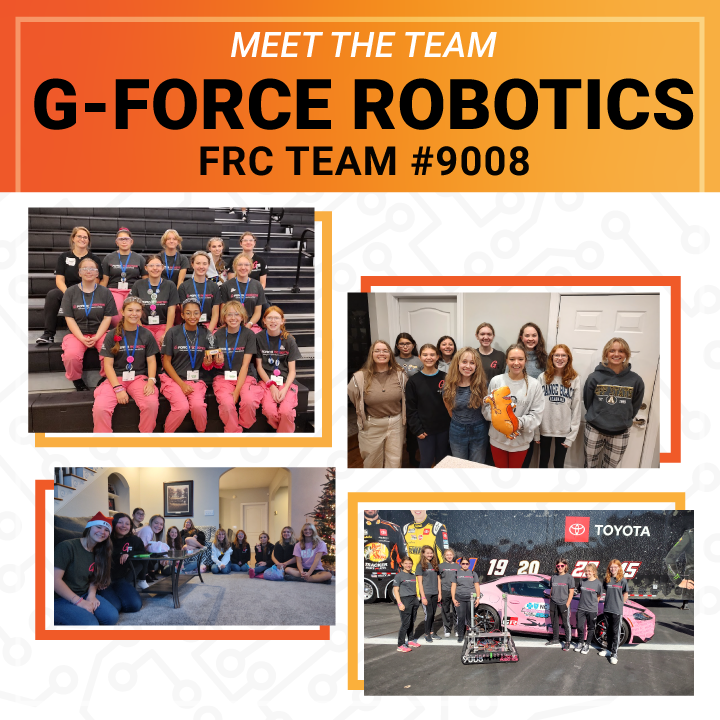 Meet FRC team #9008 - G-Force Robotics, our first #TeamREV spotlight of the season!
Tell us a little bit about your team's background.
The team started in April 2022 and we currently have 11 young women in grades 9-11 from across two counties. We represent home, public and charter schools. Our mascot is Zoomie - a loveable, but slow airplane. Ten girls on the team are dedicated to building and coding, and one is a marketer (with a lot of help from the other 10). We believe in inspiring and encouraging other young girls to follow their passions in STEM and we have several community outreach programs targeted at elementary, middle and high school girls. Our goal is to be a highly competitive robotics team that also focused our efforts on community service and STEM outreach. We have not named our 2023 robot yet - but it's coming! Our off-season 2022 robot was named Electra after Amelia Earhart's Lockheed Martin plane.
What are a few achievements your team is proud of so far this season?
We built a disability ramp for a two, elderly U.S. Army veterans. We used our knowledge of teamwork and tools to fully construct a ramp for this wonderful couple. The gentleman had taken many falls down his front stairs. We partnered with a local Rotarian to build this ramp in one full, HOT, August day...something he said many groups he had worked with could do in just one day.
We have started our own Be That Engineer Literacy Project to encourage girls in elementary school to pursue STEM by donating a book based a story of a woman/girl in STEM. We have partnered with global companies and organizations such as Lockheed Martin, Caterpillar, Battlebots, Northrop Grumman, Collins Aerospace and NASA to get female engineers to sign notes of inspiration on the inside of the book covers. We take our robot to local schools to talk about FIRST and robotics, we read the book and then donate it to school administrators.
We have been asked to serve on the planning committee for the 2023 Wings Over Wayne Air Show STEM Hangar. This is the largest air show in NC with more than 160,000 people in attendance in 2019. This will be the first time they are offering a STEM hangar. We have organized for a full FIRST robotics field to be present and invited 10 FRC teams across our state to come as exhibitors to play in exhibition games throughout the three-day program. In addition, we have organized for more than 40 hands-on and educational displays to be present in the 40,000 sq. ft. hangar. We are excited to be able to showcase girls in STEM and robotics to such a large audience in eastern NC.
What goals is your team working towards this season?
We have many goals as a team. One is to break the mold of what a rookie team is expected to be. We want to show that we are a highly committed, competitive, focused team of young women that can bond together to create something incredible- not just in our robot, but also in our community.
While we learned our tool skills during the offseason, our challenge now is to understand how engineering design and materials come together to solve a challenge/obstacle...and how to do it when you only have 6 hours a week to build. Our goal is to deliver a robot that is fully capable of meeting all of this season's challenges while also having time to do other extra curriculars. We are all learning what good time management is!
Finally, we have a goal to win the Rookie All-Star Award at our district and state levels and advance to the world competition in Houston. We want an opportunity to compete on a global stage, meet teams from across the world that will encourage and inspire us even more, and make our community and sponsors proud.
What community service events have your team recently participated in?
We went to Glendale-Kenly Elementary School to present our robot to the 3rd-5th grade classes. We talked about team, FIRST Robotics, our sponsors, Battlebots (our mentor Craig Danby joined us) and presented a book as part of our Be That Engineer Literacy Project. The local news covered it.
What is your favorite part about being in #TeamREV?
We like the sense of community that REV has built by being part of #TeamREV and it's fun for us to see what other REV teams are posting and sharing about their season.
Thanks for being a fantastic member of #TeamREV, G-Force! You can follow G-Force Robotics on these platforms: