Published by T-REV on Jul 25th 2022
REV Robotics is celebrating #NationalInternDay all week long by honoring our summer 2022 interns! Meet James, our Mechanical Engineering Intern and FIRST Alumni visiting for the summer from Worcester Polytechnic Institute.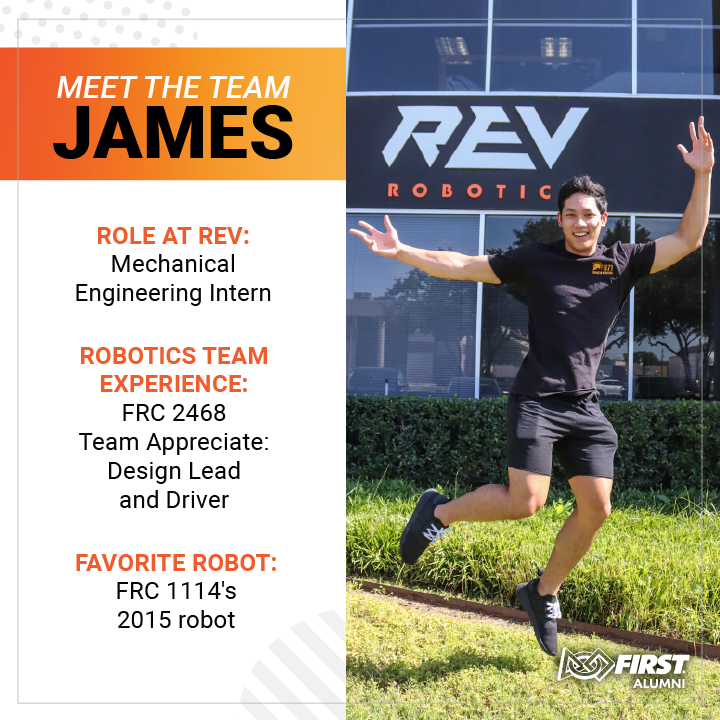 What inspired you to do what you do?
"My robotics career started in 2013 as a 6th grader straight out of elementary school. I had the opportunity to join a robotics team that was mentored by my school district's FRC team. My time on the team was spent soaking up information by all of my amazing teammates and mentors. At the end of our season the lead mentor of the FRC team we were sponsored by gave us a big speech. We heard stories of robots that could lift and towered over us, shoot basketballs, and play frisbee. I went home that night and watched the FRC 2013 Einstein Finals. It was that moment that made me fall in love with robotics. Fast forward 5 years and I became the design lead and driver of FRC 2468 Team Appreciate, the same team that mentored me all those years ago."
Are you mentoring a robotics team or have you in the past?
"Briefly mentored in the past: FTC 5628, 11549, and 17161."
What are your hobbies outside of FIRST?
"Combat Robotics, Powerlifting, Golf, Video Editing, and CADing… all the time. I have a highly ranked combat robot and am part of the Switchback Battlebots team."
What do you listen to while you work?
"Battlebots Podcasts or my Hype CAD playlist."
What's your favorite quote?
"The man on top of the mountain didn't fall there." -Vince Lombardi
What is the best advice you've ever received?
"Just 100% will never get you to the top, you have to push past your limits."
Thanks for all your hard work this summer, James! #REVDoesMore