Published by T-REV on Jul 28th 2022
Meet our second feature for #NationalInternDay 2022: Hayden! Hayden, FIRST Alumni and Mechanical Engineering Intern here at REV, traveled down to the Lone Star State this summer from the University of Illinois at Urbana-Champaign.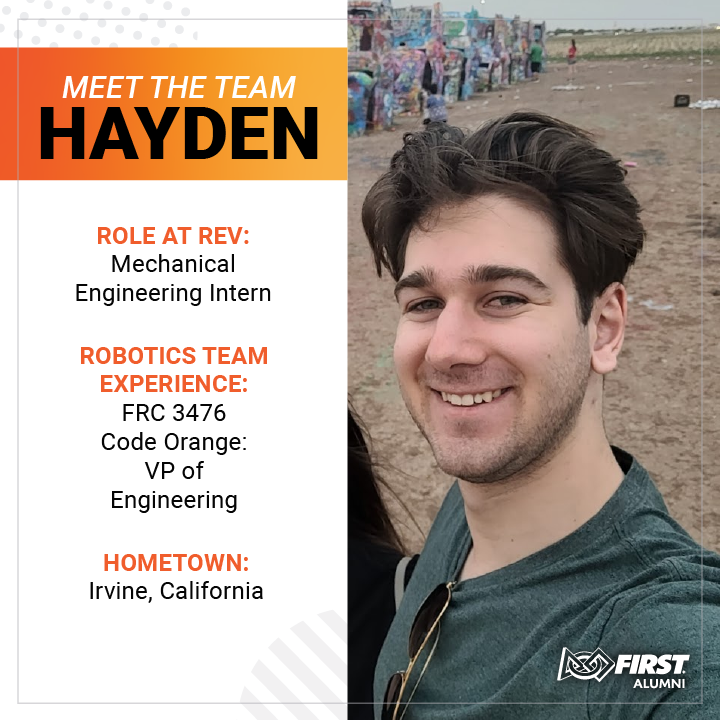 Where are you from? What brought you to REV?
"I am from Irvine, CA. My prior experiences in FIRST brought me to REV. I have been a part of robotics for 6 years."
Have you been a part of a robotics team? If so, what was the name and what was your role?
"I was the VP of Engineering on FRC Team 3476 Code Orange."
What are your hobbies outside of FIRST?
"Valorant, Dungeons & Dragons, and watching terrible Netflix reality TV."
What apps, software, or tools can't you live without?
"Discord."
What is something interesting you would like to share with everyone?
"I've broken every finger except one."
What is the best advice you've ever received?
"Be the best you."
We're so proud of your accomplishments with us this summer, Hayden! #REVDoesMore