Published by T-REV on Apr 14th 2023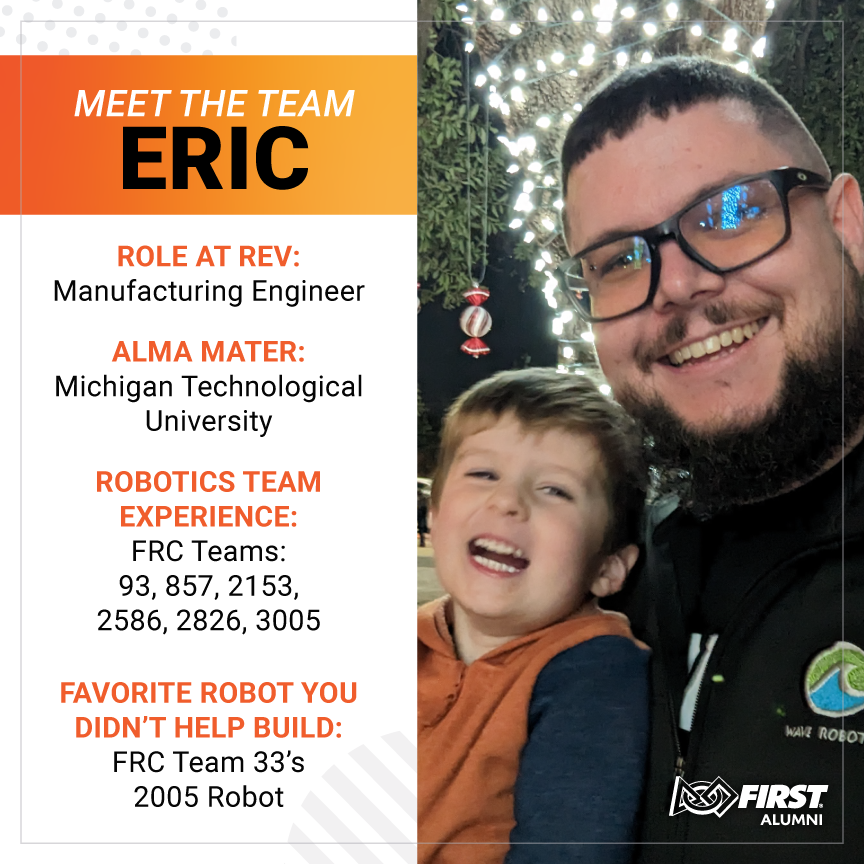 Meet Eric, our Manufacturing Engineer and FIRSTAlumni! Eric was born in Texas, but spent the majority of his childhood in Wisconsin. He returned to Texas with a Bachelor's Degree in Mechanical Engineering from Michigan Technological University.
How long have you been a part of robotics?
I've been involved with FIRST since 2002, beginning with FRC Team 93: NEW Apple Corps in high school. During my time in college, I mentored FRC Teams 857: Superior Roboworks, 2153: Chassell Robotics, and 2586: Copper Bots. After graduating from MTU, I volunteered as an AmeriCorps VISTA with FIRST in Washington DC in 2011. Once I finished as a VISTA, I moved back to Wisconsin where I mentored FRC Team 2826: Wave Robotics from 2012-2021. I then accepted my current role at REV Robotics and moved to Texas. This year marks my 22nd season involved with FRC, and I currently mentor FRC Team 3005: RoboChargers.
What brought you to REV Robotics?
The goals and company culture at REV Robotics matched highly with what I want out of a career. Giving back to a community I've been involved with for over 20 years and being able to expand that to a global scale was a big draw to working here.
What are your hobbies?
Board games, movies, TV, soccer (go Liverpool!), football (go Pack go!), basketball (go Bucks!), travel, robots, and video games.
What's your favorite quote?
"I have no special talents. I am only passionately curious." - Albert Einstein
"Everything you can imagine is real." - Pablo Picasso
Eric's story shows that you can be involved in STEM in many different ways and locations. We're so glad to have Eric on our team!